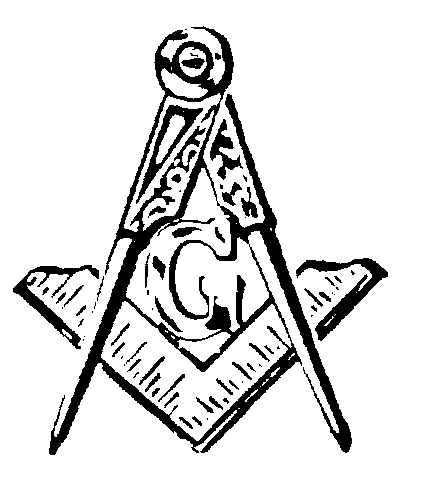 UNITY LODGE No. 58 AF&AM
THORNDIKE, MAINE
Website:
http://unitylodge.hutchinsbrothers.com
Summons JANUARY 2006
The Worshipful Master's Tracing Board
Install/Stated meeting: January 18th at 7:00p.m. (Third Wednesday of the Month).
Brethren Please; make an effort to attend to the summons.
Agenda: Installation of Officers for 2006 / Short business after.
Reading and confirming minutes, Passing Accounts, Receiving petitions, General business.
If anyone knows of any brothers who are sick or in distress please notify the Master; Mayo Cookson, Jr. (207) 437-2655 or
Secretary; Karl D. Julian (207) 568-3119
.
Work of the evening: Semi-Public, Installation of Officers for the in-coming year. Any other business to come before the Lodge.
Officers elected and/or expected to be appointed are:
WM Mayo A. Cookson, Jr.
SW John W. Keithan, Jr.
JW Kenneth R. Overlock
Sec. Karl D. Julian
Treas. Harold W. Emerson
Finance Committee Harold W. Emerson, Bruce A. Hutchins and Norman R. Vashon
Trustees of Building Assoc. Karl D. Julian and Bruce A. Hutchins
The Master announced his intention to appoint: SD Norman R. Vashon, JD John T. Billings, SS James A. Spaulding Jr., JS Roland G. Reed, Chap. Bruce A. Hutchins, and Tyler Clyde A. Rolerson.
Coming events.
18th January 2006; 7:00pm Semi Public, Installation of Elected and Appointed Officers for the year 2006: Followed with Refreshments and a very short business meeting.
15th February 2006: 6:30pm Potluck Supper. 7:30pm Stated meeting.
Note: Unity Lodge here in Thorndike, has at the present time the 12th Masonic District Traveling Gavel. Lets be prepared for the crowd that will be after it! It takes at least 5 (five) Brothers to take possession of it, a number of Lodges are after it so lets hope the 12th District Brethren arrive in large numbers..
Note
From Your Secretary: Please help me keep the records straight by informing me of any change of address, change of status, etc. It also helps if you send your dues payments in early so that I do not have the extra burden of chasing delinquent members. … 2006 Dues Cards are available…. I am basically a lazy person and I do not want to be required to sent out correspondence to members regarding past due payments. Please have the courtesy to answer any correspondence that I send so there is no duplication of effort. Thank you to the Brethren who enclosed a donation along with their dues. If you need an application to give to someone you feel might like to join the craft, please obtain one from the Secretary or any of the Officers.
Masonic Thoughts
In good communication, people should be in no
doubt that you have reached a conclusion.
There is no such thing as a minor lapse of integrity.
America is the only country
Deliberately founded on a good idea.
---John Gunther--
Masonic Bits and Pieces
Perspective
Most of the successful people I've known are ones who
do more listening than talking…You don't have to blow
out the other fellow's light to let your own shine..
There comes a moment when you have to stop
revving up the car and shove it into gear.
| | |
| --- | --- |
| Attest: Karl D. Julian, Secretary | Mayo Cookson Jr., Master |
From the old records:
Jan. 15, 1851, Two new items appear: "Voted that the Stewards be instructed to purchase four lamps, some oil, and a pair of snuffers for the use of the Lodge." Also after electing officers "for the ensuing Masonic year", it was "voted that on the time of our said installation each brother may bring a lady with him either his wife, sister or daughter, or a substitute, to be present at the said ceremony of installation, also a respectful invitation be given to Ministers of the Gospel to attend if they see fit."
January 12, 1854, At a regular meeting the brethren were informed that the Chaplain, Bro. Timothy Waterhouse, had died the evening before and had requested a Masonic burial. Consequently it was "Voted that the Secretary of the Lodge notify the Brethren of Unity Lodge to be present and assist in committing our deceased Brother's (Waterhouse) last earthly remains to the grave, his final resting place until the general resurrection, on Sunday next, the 15th of January, instant, at 10 1/2 O'Clock A.M. at his late residence in this Town."
Masonic District # 12
Website:
www.12thdistrictme.org
Monthly Stated Meeting for each Lodge
Note; in your Calendars
First Tuesday: Star in the West Lodge # 85; Unity, Maine. Dark June, July & August.
First Wednesday: Central Lodge # 45; China, Maine. Dark July & August.
First Thursday: Siloam Lodge # 92; Fairfield, Maine. Dark July & August.
Second Monday: Waterville Lodge # 33; Waterville, Maine. Dark July & August.
Second Tuesday: Neguemkeag-Vassalboro Lodge # 54; Vassalboro, Maine. Dark July & August.
Third Tuesday: Messalonskee Lodge # 113; Oakland, Maine. Dark July & August.
Third Wednesday: Unity # 58; Thorndike, Maine. Dark July & August.
Third Thursday: Sebasticook Lodge #146; Clinton, Maine. Dark July & August.